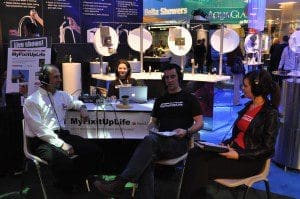 MyFixitUpLife's Mark & Theresa talk with Gary from Arrow Fastener about four of their newest cool tools. Mark is fired up to talk about their T50 R.E.D. Hand Stapler that fires up to a 1-inch brad nail, new HT50iR.E.D. ergonomically redesigned Hammer Tacker, new ET50R.E.D. Electric Staple Gun, and EBN320R.E.D. Electric Brad Nail Gun that fires up to a 2-inch brad nail. Gary shares details about their R.E.D. line of tools that are Reliable, Ergonomic, Durable. And, Mark requests wireless headsets for the MyFixitUpLife show so he can run around and do live demos during their broadcast. We also learn about the Arrow Fastener community and the helpful how-to videos on the website.
Check out more at Arrow Fastener, and listen to the full radio show from inside the Delta booth at the International Builders show when we're stepping into the shower, sharing innovative showers, and getting in touch with a new game-changing faucet technology inside Delta Faucet. Mark and Theresa are getting more Reliable, Ergonomic, and Durable with Arrow Fastener. And they're spending time with oh-so-handsome designer Ed Sanders from Extreme Makeover: Home Edition when it airs on March 18.
If you have a question about your home improvement projects, send us an email.
Check the MyFixitUpLife show schedule to find out who is talking with MyFixitUpLife's Mark and Theresa this week.