Food Network's Sunny Anderson talks about her shows, and how she got her name.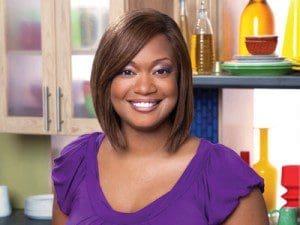 Sunny shares the details on how she got her name, ideas for new blogs on her website, how she started in TV with Emeril, and shares the details on the last meal she cooked at home. Sunny hosts the popular series, Food Network's Cooking for Real.
With an understanding of the need for uncomplicated dishes with affordable, easy to find ingredients, Sunny offers real food for real life, combining her approach to classic comfort foods along with her passion for unique flavors inspired by her many travels. She's been a special guest on Emeril Live, and co-hosted Food Network's series of specials, Gotta Get It and How'd That Get On My Plate? Sunny's passion for food paved the way for a passion with music.
While growing up traveling the world as an Army brat, her parents always encouraged her to indulge in the local cuisine. When Sunny joined the Air Force, she continued her trek through the world for culinary finds and soon discovered she had a desire to explore music. Soon enough, she became an award-winning military radio host and news reporter. Upon finishing her tour of duty with the Air Force, Sunny kept on her broadcast career playing radio host at stations in New Orleans, Montgomery, Detroit, and finally, in New York at hip hop radio powerhouse, HOT 97. Her radio success landed her guest hosting duties on MTV2, and voice over gigs on television and radio ads for Destiny's Child, LL Cool J, and John Legend. Sunny also served as Food & Lifestyle editor at Hip Hop Weekly Magazine where she reported on celebrity living in her column, "Belly of the Beats," where she interviewed hip hop stars about food, cooking, and restaurants they love.
Follow her on Twitter at @SunnyAnderson and click here to listen to more interviews from inside Danze Faucet booth at the Kitchen & Bath Industry Show.