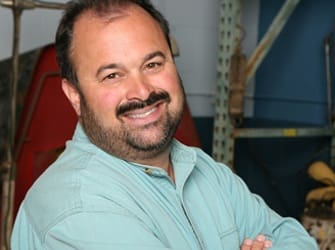 Today we're setting a pick. The History channel's American picker Frank Fritz pit stops from his endless archaeological road trip to talk treasures and trash, codgers and cash, barns, bikes, and a vintage vanload more. Check out Frank's site at frankfritzfinds.com if you have great old items to share.
And Robin Hartl, best known and loved from her 12 years on PBS' groundbreaking Hometime, calls in with her pick of projects and products. Plus she shares a funny story about pretending to share a bed with Dean Johnson.
Therma-Tru's Heather Sonnenberg peaks in with her pick of premo trim solutions and grand entrance guidance. And if you're selling your house, forsalebyowner.com's Joanne Cleaver clicks in with tips for making your home a top pick for potential buyers.
Plus Mark and Theresa share their top picks of DIY Father's Day Finds: a Troy-bilt mower, the Stok Quatto Grill (win one here), and the Rockwell Jawhorse. And you can see more of their DIY Dads gift ideas here.
Frank – From collecting rocks and beer cans as a kid, 'American Pickers' Frank has always had a passion for antiques. He's teamed up with Craftsman to help "Find America's Treasures" this summer. From vintage tools and tractors to old signs and bicycles, they want to see your backyard treasures and rusty gold.
Robin is probably best known for her role as co-host of the popular nationally recognized home-improvement television show Hometime which she co-hosted for 12 years with Dean Johnson.
Check the MyFixitUpLife show schedule to find out who is talking with MyFixitUpLife's Mark and Theresa this week.
If you have a question about your home improvement projects, send us an email.