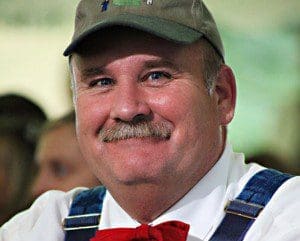 If I had to summarize my experience at Troy-Bilt HQ and with the Saturday6 in one word, it would be "passion."
No, not the ro-co kind (ro-co is TV talk for "romantic comedy"; learned it on The Daily Show) but I digress.
I saw passion for people, partners, and products. And I'm not just making that up.
People. The Saturday6 team clearly loves what they do. And when I see passion like this it's always a good sign that person takes what they write about seriously. And that means you can count on what they say.
Plants, gardening, the landscape…to a person, each 6er lit up talking about a particular variety, rescuing a garden, successful—even unsuccessful—plantings. Heck, the 6 even got fired up about community garden projects and local geology for crying out loud! It's not every day you get to listen in on nuanced, informed conversation about which plant works best where and "glacial erratics."
Seriously.
Partners.
Troy-Bilt has partnered with The Chef's Garden. Farmer Lee Jones, head honcho there, and his team, are the vegetable gardeners to the world's great kitchens, growing some of the planet's most desirable food and trying to re-discover how food was grown 100 years ago to make it taste better than anything grown today. Fascinating. Absolutely fascinating.
To further sweeten the pot, The Chef's Garden's Veggie U program is something I that I think is a tremendous benefit to society. Oversimplifying a bit, the program is tailored to work into 4th grade curriculums nationwide and its main goal is to teach children healthier ways to eat. Simultaneously, the program helps them with their other school subjects.
Putting perhaps too fine a point on it, childhood obesity is a devastating burden on our children and our society. That The Chef's Table is so dedicated to such a worthwhile project is inspiring, both in the fact that it exists at all and that Troy-Bilt is part of a program. To put it another way, I personally appreciate that instead of a corporate partnership that encourages thoughtless consumption Troy-Bilt instead endeavors to give something back to the world, doing what we often say here at MyFixitUpLife: trying to leave the world better than you found it.
Products. I like mowers and mowing so while I could say the passion here is mine, I'm outclassed by the experts at Troy-Bilt. And the facility tour proved that beyond doubt.
A mower, string-trimmer, tiller, etc is more than an engine, seat, or pull-cord. It's high-end industrial design and engineering that gets quality products with a feature-set, price point, and full-on functionality that makes sense. Product testing from prototype through maintenance is thorough, sophisticated, and smart.
One of my favorite design elements was the back-up safety device for riding tractors. This feature—it requires a secondary motion before the operator can throw the unit in reverse, requiring the operator to think about being in reverse, because a child or animal may be have gotten behind the unit; this is a reminder to look before backing up—is a key element to operating the unit safely.

But what really got my attention was this: Troy-Bilt invented the feature, then shared it with the industry.
For free.
And to me, that boils down to passion. Passion for the lawns and plants we grow, for the people we work with, and for the people's whose lives Troy-Bilt equipment enters.
That's passion. That's built for life.