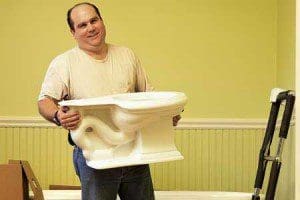 Tool up and tune in, we're sneak-peaking Stanley Tools' front line of next-gen products from their New York City premiere.
We're getting schooled when This Old House—and unimproveably nice guy—master plumber and HVAC expert Rich Trethewey radiates a pipeline plumb full of knowledge and warmth. He shares tips to how to get your home ready for winter. And it involves making a date and a cup of tea.
And home improvement heats the streets as we check in on the fall season of Extreme Makeover: Home Edition when Mark and Theresa announce a special project they're designing with Real Outdoor Living for the show's Joplin build.
Mark and Theresa are checking down new Stanley Tools from inside the media event where they get to test out the tools in usual and unusual demonstrations.
Theresa shares a whole new line of rocking animals that will rock your world, and an app on iTunes of a 3D Rocking horse. And she's loving the DIY Network's This New House recent project, which features a potted plant that uniquely hangs on your wall, called Wall Gardens. Mark & Theresa are talking about a kitchen that you can fold up and take with you, and learn about how your daily workout can help offset your energy costs!
So buckle your tool belt, this is how Stanley Works. This week on MyFixitUpLife!