Our 10-year-old has 'optional' card exchange at school, but she loves to participate in absolutely everything that comes her way. And I agree that it's fun to give a little something to your friends every February.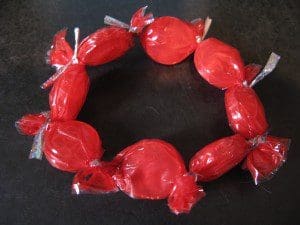 Like most 10-year-old girls, she loves jewelry. So here's a little Valentine's craft that's perfect for her BFFs. What's even better is that it's inexpensive and easy to make, too.
There's just two supplies: a bag of candy and ribbon.
We took the ends of the wrapped candy and tied to ends together, then repeated until the tied candy was long enough to slip over her hand.
More than perfect for just Valentine's Day, this candy jewelry is a great party gift bag treat. And you can make it longer to use as a necklace, too.