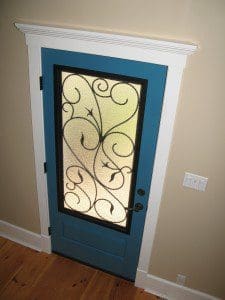 Mark & Theresa replace the original door on their 100+ year-old American Foursquare.
Theresa had been holding on to the original door, as it has charmed her with the original mail slot, but when Mark pointed out that they could see outside when the door was closed, she finally agreed it was time to make the smart move to and energy efficient door from Therma-Tru.
But instead of just replacing the door, they upgraded. Mark decided on a fiberglass door, and Theresa chose Loch blue with bright white Fypon molding to make their old doorway into a grand new entrance.