We're building a bridge with Rebuilding Together Friday, June 15 and Saturday, June 16 in Philadelphia.
Rebuilding Together Philadelphia's 'Building a Healthy Neighborhood' makeover for Overbrook Environmental Education Center is designed to help Philly kids learn about healthy living, eating, and playing. To kick-start the neighborhood's access to play, HGTV'S Carter Oosterhouse's Carter's Kids program that will be building a playground. And with the generous support of presenting sponsor Lowe's, the Jon Bon Jovi Soul Foundation and hundreds of volunteers that will repair nearly 30 homes owned by low-income families and revitalize the surrounding community with landscaping, community gardens and other services during the three-day rebuilding effort in the West Philadelphia Neighborhood of Overbrook. MyFixitUpLife is building a bridge as part of the sitework for the playground and landscaping project.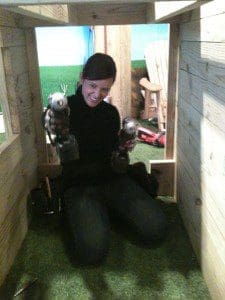 Mark and Theresa are building a bridge as part of the playground area, to provide access from the center to the fun playground and greenhouse that's under construction.
And as part of the Building a Healthy Neighborhood event, Rebuilding Together Philadelphia is helping fix-up more than 30 homes in the neighborhood and hosting a community resource fair on Saturday. Click here to volunteer to help
Philadelphia is home to more than 1.5 million people and is one of our nation's oldest and most historic cities. But so many of the city's low-income homeowners face great challenges every day.
With more than 60,000 vacant and abandoned properties, and a 24% poverty rate – that's twice the national average – many neighborhoods in Philadelphia need
our help.
Rebuilding Together's Mission: To create a positive, healthy impact on the community, and lend our neighbors in Philadelphia a hand in creating a brighter future. Click here for more information about the event.
And Mark and Theresa will be broadcasting live MyFixitUpLife talk at 10am on Saturday in the Philadelphia-area on WCHE 1520 AM Radio and worldwide on BlogTalkRadio.
Tune in Saturday, June 16th from 10-11am to listen to this live broadcast when they will be interviewing HGTV's Carter Oosterhouse, Rebuilding Together Philadelphia's Executive Director Carrie Rathmann, Jon Bon Jovi Soul Foundation's Exectuive Director Mimi Box, Rebuilding Together's John White, and Overbrook Environmental Education Center's Jerome Shabazz. Live music with Tim Williams and Mike McVey.