Most kids love slime. It's just a fact, like kids love ice cream and snow days.
So here's a perfect opportunity to take their love for goo, and give them an opportunity to 'science' it themselves with a few basics you'll probably already have at home.
Recipe for Homemade Slime
2 oz white glue (Elmer's)
1 cup warm Water
Food coloring
1 tbsp Borax (found near laundry detergent in the store)
3 tbsp warm Water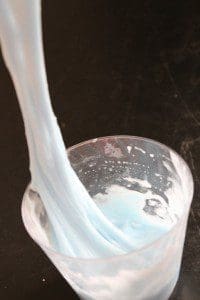 Mix 2 ounces of white glue with 3 tbsp of water and six drops of desired food color.
In a separate bowl, mix 1 tbsp Borax with 1 cup of warm water.
Slowly add 1 tbsp of the Borax mixture to the glue mixture. Watch what happens…. Add another tbsp of the Borax mixture, and stir well. Let sit for about a minute.
Store in plastic bag or sealed container.