Steve from Brooklyn Park, MN, won a free Bosch 12″ Dual-Bevel Glide Miter Saw from MyFixitUpLife home improvement radio show!
Steve's winning entry:
"I am a handy fixer upper type guy and I know my way around my work room — I call it my man cave but there is nothing worse than going to do a project and not having the right tools. My tools are so old that half the time they don't work so I borrow my neighbor's tools but there's something about asking another guy to borrow his tools. Its just not right. A guy would rather give you his wife than his favorite tool, so I want to have my own tools — you know like a grown up, so please vote for me as I would be so happy and maybe the neighbors would envy me for a change. Thanks"
About the Bosch 12″ Dual-Bevel Glide Miter Saw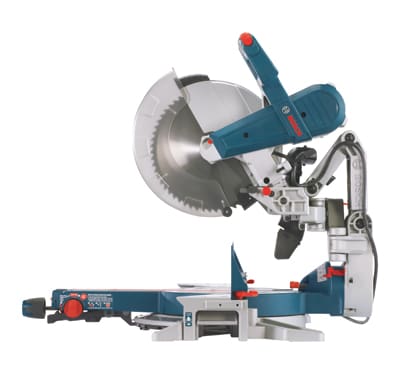 Winner of a 2010 Breakthrough Award from Popular Mechanics magazine, this Bosch saw features their Axial-Glide system that replaces rails with a series of six hinges so you can use the saw even in tight spaces.
Features include:
-Patented Axial-Glide™ System: Durable Precision – consistent precision over tool life
-Compact Workspace – saves up-to 12" workspace; Glide Action – unmatched smoothness of cut
-Expanded Cutting Capacity: 14" horizontal capacity (nominal)
-6-1/2-in. vertical capacity against the fence (base)
-6-1/2-in. crown capacity against the fence (45° spring)
-Upfront Bevel Controls – All-metal bevel lock lever and range selector located Upfront for quick and easy bevel settings without reaching behind the saw
-Squarelock™ Quick-Release Fences: High-precision Squarelock fence aligns 90° to table and requires no adjustment
-One-touch lock/unlock to slide fence for added support
-Integrated Expanding Base Extensions: 60% more left-to-right material support than leading competitor
-Large Easy-to-read Uniform Bevel & Stainless Steel Miter Scales: 52° Left/60° Right Miter Capacity; 47° Left/47° Right Bevel Capacity with marked detents and roof pitch angles
-Adjustable Miter Detents: Detents at 0°, 15°, 31.6°, 22.5°, 45°, 60° Right
-Push-button Miter Detent Override – Easy-to-access thumb actuated control right up front for fine miter angle adjustment
-Bevel Detents: 0, 33.9°, 45° Left/Right for accurate cuts
Winner is selected by public online vote. Don't forget to invite your friends to vote for you.
Winner was announced on MyFixitUpLife radio show on Saturday, November 13th, 2010.