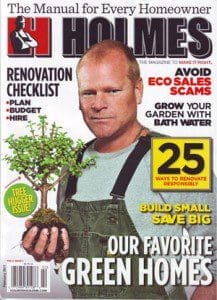 Mark & Theresa are sitting down face-to-face and getting real with Mike Holmes from the popular HGTV hits Holmes on Homes and Holmes Inspection.
Mike is sharing his views on 'Green' building, what he likes to do when he's not building, if there's anything about building that 'throws' him, and what he'd be doing if he never started 'Holmes on Homes.'
Mark and Theresa are sharing their FixitUpFinds of the week—that include a chocolate kitchen, recycling vinyl billboards, and a desk that coverts into a bed from The Stow Company.
And they are ready to give away the Craftsman Turn Tight Tractor to one lucky fan.
Check the MyFixitUpLife show schedule to find out who is talking with MyFixitUpLife's Mark and Theresa this week.
If you have a question about your home improvement projects, send us an email.