We're in the bathroom today!
Carpenter, friend and host of DIY networks 'I Hate My Bath' and 'Good Better Best' Jeff Devlin joins the program. The universe of universal design for kids of all ages opens up when we're joined by the gold standard in bathroom products, American Standard.
And the bath is the place where water and tile meet like no other room in the home. To get a hand up on installing primo tile we get the low down from tiling-made-easy, Bondera Tile Mat Set.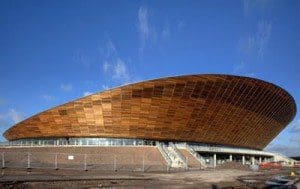 We're taking a step back when we flush out the location of the worlds biggest toilet. We also take a look at the Veladrome: the stunning building built in London for the 2012 Olympics entirely out of Western Red Cedar!
And we let you know where you can fulfill your secret desire to drive a bulldozer.
So, lets make like the Bella Dance-a-Rella chant that haunts me at night. Make your good better and your better best because home improvement happens now!
If you have a question about your home improvement projects, send us an email.