HGTV's 'Cousins Undercover' Anthony Carrino and John Colaneri talk with Mark and Theresa about renovating an historic firehouse into their office and the best part about working with Ellen Degeneres.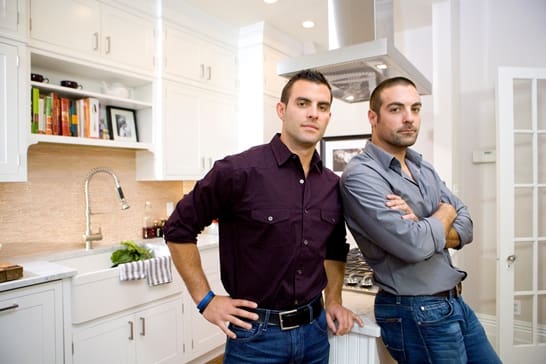 Theresa:            You are inside MyFixitUpLife….. I beat you.
Mark:                 You did beat me.
Theresa:            I totally beat you.
Mark:            We are in a competition because we are inside the offices of Brunelleschi Construction, Cousins on Call, Kitchen Cousins, however you know them. We are here in their offices.
Theresa:            Yes we are. We were let in.
Mark:            And joined by John and Anthony, Kitchen Cousins, Cousins on Call.
Anthony Carrino:            Hello. Hello.
John:            How you doing guys?
Anthony:            Thanks for coming guys.
Theresa:            Thanks for having us. The first thing I want to ask is not really my question, it's Tim our producer's question. Where do you keep all of the ghosts here?
Anthony:            The ghosts?
Theresa:            Yeah.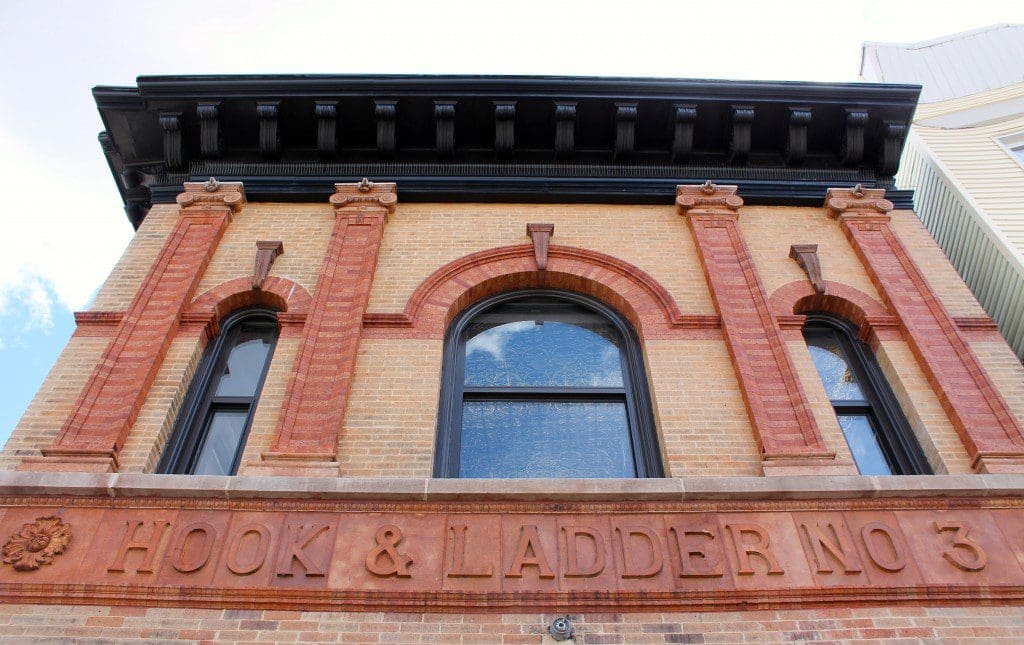 Anthony:            For Ghostbusters?
Theresa:            Yes.
Mark:            You jumped in too early. Yes, you didn't set it up. This place, can we say it?
John Colaneri:            Oh, absolutely.
Mark:            This place, by the way, my jealousy which is turning into hatred and back into jealousy for you guys having a fire house as an office.
John:            It is pretty cool here. This is a pretty cool space.
Theresa:            He actually announced to me two years ago that he wants to actually renovate a firehouse and have it be our office and live in it. Then when we saw that's where you guys work …
Mark:            I almost kept driving. I was just like, "You know what? We don't need the interview that much?"
Theresa:            Jealousy.
Anthony:            We fought for this firehouse for a long time. It was actually sold illegally at one point and then the city got it back because people didn't purchase it the right way. We were never informed about that you have to public notice when you're selling a building from the city. So, long story short we did get that public notice and my father was not walking out of that room without owning this. After a painstaking process of architecture and restoration, then a lot of TLC, this place looks like it looks now. We have photos that we'll share with you guys. The floor where we are right now was buckled up to about table height. All this tin was rusted out from clogged roof drains. We spent a lot of time rebuilding this place.
Mark:            Holy smoke. So it wasn't even occupiable when you got it.
John:            No. It was abandoned for at least 10 years.
Anthony:            I think it was five years.
John:            Five years?
Anthony:            I think they closed it five to six years.
John:            It was for a number of years because the fire department grew out of it. Their trucks were too long and weighed too much and actually couldn't be held here inside of the firehouse. So, they built a now new central station that all of the firehouses actually are out of now.
Mark:            How did you even know that it was going to come up?
Anthony:            By this point, which was about three years ago now, we'd been a developer in town for going on seven years. We had done a few projects of note that got the city's attention. They always have the  public announcement that goes in the Jersey Journal and NJ.com and what not, but we get calls from the redevelopment agency and the real estate office and they say, "Listen we want to let you guys know." They appreciate the care that we take. They appreciate that we're not a knockdown firm. The mainstay of our business is restoring the architecturally significant buildings in this city, keeping the existing fabric, restoring the existing fabric, bringing it back to its former glory. They like to let us know about these things.
Mark:            So you're business model isn't like mine, change your cell phone number every month?
Anthony:            No. No, no we cannot do that. Absolutely not.
Mark:            OK. Good to know. Let me check off that question.
Theresa:            One of Mark's favorite things to kid about is just pave it. Just pave the whole thing.
Mark:            Just pave the whole thing.
John:            Nice and easy, concrete it in. Nice and easy. Done.
Mark:            That's it.
The exterior of this building is gorgeous.
Anthony:            Thank you.
Mark:            There's all kind of molding out there. Your paint job is fantastic. The colors obviously look like there's an eye towards history.
Anthony:            The cornice is all restored tin and we just painted that in a flat black because it's a historical color and we wanted to respect the history of the building. There is no colors painted on the building at all. It's all through brick and mortar. There's four different mortar colors on the building and all the bricks that you see are actually iron or brick. Meaning that when the bricks were made, they were made with iron inside them. Over time, the bricks actually rust. If I showed you a side-by-side of what this building looks like now compared to when we bought it, the cleaning process, it's incredible. We literally took 200 years of rust off the building.
The building was built in 1896.
John:            The thing is, now that we did that and we restored the outside exactly to how it used to be, we went through this whole process this past year with the New Jersey historical registry and the National. Now we are on the New Jersey and National Historic Registry. This building is now protected. We're really proud of that. That was one of our biggest things that we wanted this to be a protected building so it will always look like this.
Mark:            Now you don't have to take care of it at all.
Theresa:            I just still can't get over the fact that you said that the floor was all the way up to table height in here.  I can't even imagine you coming in and looking around and all the things that you had to think about to try to, not even just the outside but the inside of the building, to make it be functional for anything, let alone …
John:            If you can imagine behind us, these were two windows that we opened up into doors. Now we have our outside patio area which is great. Here, right above us, this was about four feet to five feet of water because there was a clogged roof drain that they just let sit. There was a little mini pool here.
Anthony:            There's little drops going on downstairs in the back room where we have tenants, when my dad and I looked at the space.  We're all under there looking at it. I went upstairs. I went running downstairs to get out of this room because there's like 1000 gallons of water on wooden roof joints.
John:            It was sitting there for years.
Mark:            Literally getting a little bit ill thinking about how great it is to that.
Theresa:            The awesome thing is that there's still the fireman pole here too.
Mark:            I'm debating whether or not to ask if there's any kind of going down the fire pole or not.
Anthony:            No, we closed it because we tend to be children.
John:            We don't want any accidents.
Anthony:            Our friends tend to be children. We figured let's bolt it down so nobody can even ask to slide down the pole.
Theresa:            That's very responsible of you.
Anthony:            Yes, that doesn't happen often.
Theresa:            Did you guys cry as you were doing that?
Anthony:            A little bit.
John:            We would love to have it. It would be easy access out, but that unfortunately is a lawsuit waiting to happen. We do not want that.
Mark:            So you've literally built in a safety measure from yourselves?
John:             Absolutely.
Mark:            Ok. Very good. You have to do that sometimes.
This sort of segues into the next question which is, you guys are known as the Kitchen Cousins, but now you've done a bunch of jobs that are bigger than kitchens as opposed to the Kitchen Cousin show with Ellen and Sandy and disaster relief and all these other things. Yet, at the same time you've talked about all this renovation here.  Are these projects with Ellen flexing your design muscles, and your renovation skill level, and equipment and all the rest of it to a new place?
Anthony:            It's funny, actually Kitchen Cousins versus construction happened in reverse. We've been a construction company in Jersey City for 10 plus years. We always did these big projects. It's just that HGTV, when they found us, wanted a kitchen show. So we did that. It's like you hear a new band, it's like "These guys are great. They're brand new." They've been working for 10 years, right?
Anthony:            So, now a lot of people know us and they met us as kitchen guys, but the truth be told, we've been a full service construction design firm for 10 years. We started in February 2004, my dad and I.  John's been with us for five plus years now. We've got a whole bunch of additional staff because of how great the shows have been and people loving the designs. We were always ready to go to that next level and make the show bigger but they wanted to make sure we knew what that we were doing in front of a camera before they were going to trust us. "Hey, get bigger. Get crazier."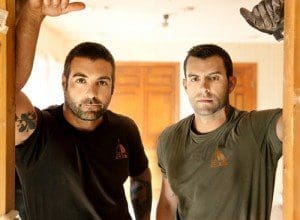 John:            "Do an entire home."
Ellen pushes us because it's that nonstop. You have a time schedule, normally seven days seven days. It's like, "Okay. Here's an entire house. Finish it." Entire house, finish it, six days. It gets a little crazy.
Anthony:            It's crazy.
The other part about working with Ellen that is more on the inspiring end is the people that she finds.  She's got such a huge reach and people know her for doing good. She's got this casting arm that we could only dream about. She finds people that are in true need.
The adrenaline that goes on, on projects like that, you have no … We work probably 18 hours a day on those projects and wake up every day with the same amount of energy. All our subs, everybody, there's a buzz that goes on. It's incredible.
Mark:            Wow. Well the buzz you hear is us taking a break. We'll be back with more Cousins On Call. Check them out at CousinsTV on Facebook. Follow them on Twitter. We'll be right back with more of MyFixitUpLife.
Check out more interviews with John Colaneri and Anthony Carrino.