Yes, this corner herb wall art costs less than $20 to make.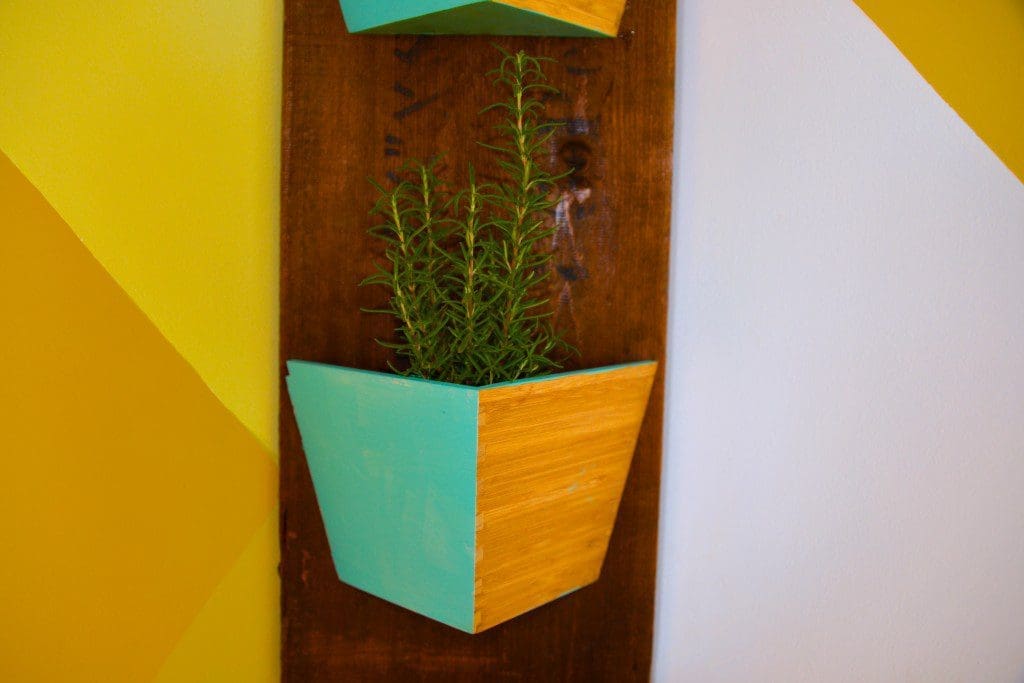 I've been dreaming about using plants as wall art in our home for a very long time. It's never been quite a good fit for the other elements of a room.
Part of my plan to create a sunroom out of our dingy mudroom was to bring in plants, and since the sunroom is next to the kitchen, little pots of herbs are perfect for the space.
The herb wall art project is less than $20, but it does take a few tools and skills.
I grabbed a few $6 Vildapel plant pots from Ikea with the idea of cutting them in half on the diagonal. I asked my husband Mark to cut them in half. (It's a delicate cut on the miter saw, but it can be done with a good clamp, a hand saw, and patience.)
Then I used shears to cut the little plastic tray in half, which means the backside of the inside of the pot is no longer a fully-sided container. So I used some Gorilla Tape to finish off the triangular tray shape.
Diving into my paint archives, I chose a Cooled Blue from Sherwin-Williams to paint one side, the rim, and bottom of each pot half.
Then, using one of my favorite adhesives, JB Weld, I secured the pots to salvaged wood we had in the shop. After the pots were secure, I then ran caulk on the inside of each pot. Salvaged wood isn't the flattest material, and there are lots of little spaces that water or soil could drip. Essentially the adhesive and caulk stop your herb wall art from becoming a fountain.
And you have an herb wall art that you made yourself.
Please let me know what you think about this project in the comments below, or head over to Twitter to talk with me.